Several highly credentialed doctors are connecting the death of cricket legend Shane Warne to the Covid vaccine. XYZ News was right.
From the Daily Sceptic:
Leading doctors have concluded that the death of legendary Australian cricketer Shane Warne was likely precipitated by the Covid mRNA vaccine that he had taken approximately nine months prior to his sudden cardiac death. His post mortem findings revealed coronary atherosclerosis.
Cardiologists Dr. Aseem Malhotra and Dr. Chris Neil, who is President of the Australian Medical Professionals Society, have concluded that the Covid vaccine can cause a rapid acceleration of coronary disease especially in those that may already have undetected mild disease. Dr. Malhotra has further concerns that the Covid mRNA vaccines may be masking angina by damaging heart nerves, resulting in patients not experiencing the chest pain that typically precedes a diagnosis of severe blockages in the heart arteries, leading to detection not occurring until it's too late, with the first symptoms often presenting as a cardiac arrest.
Shane Warne was found unresponsive in his hotel room in Thailand in March last year.
The doctors have called for the immediate suspension of Covid mRNA vaccines globally pending an investigation into serious side-effects, including late onset heart attack and sudden cardiac death.
Note that multiple doctors are reaching the same conclusion that Shane Warne died from the death jab. This should be the biggest news story in the country. Instead when you google "Shane Warne" the Lying Press serves up gossip about the unwatchable TV miniseries being unleashed on the Aussie public in a cynical attempt to monetise his death…… and headlines straight out of 2021.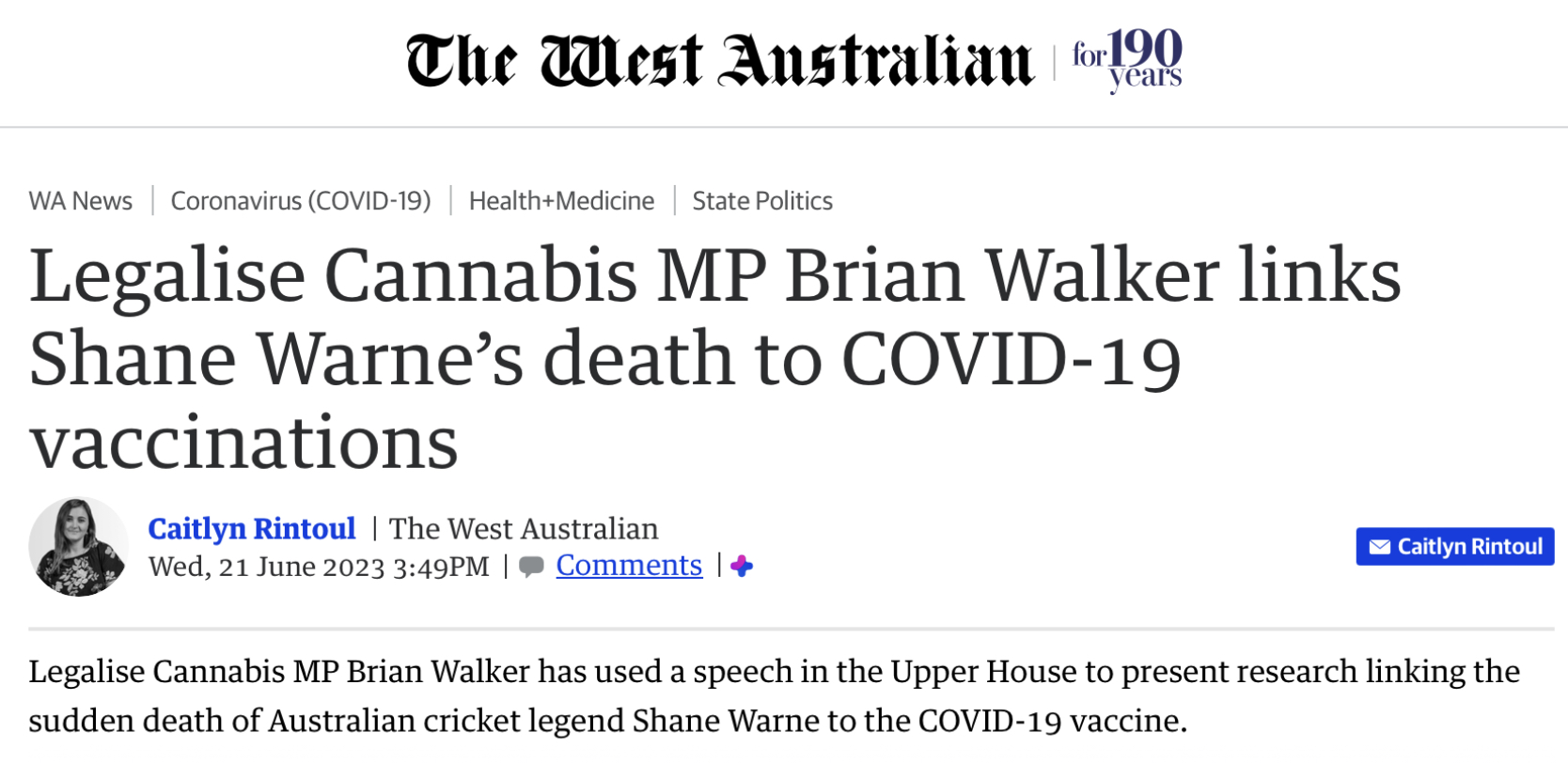 The Australian media are desperate to bury this story. However, the scientific evidence in the case against the notvaccine is overwhelming:
Consultant Cardiologist Dr. Aseem Malhotra says:
It's quite unusual for former international sportsmen to suffer a sudden cardiac death at such a young age, 52. At the same time we also know Shane didn't have the healthiest lifestyle in recent years, being both overweight and a smoker. It's likely that some mild underlying furring of his arteries (as I've seen with my own patients and how my father died) rapidly progressed in the months after he received two doses of the Pfizer mRNA Covid vaccine.
Published research already reveals the plausible biological mechanism of this occurring through increasing coronary inflammation that can last for months after the vaccine has been administered.
Other data on adverse cardiac effects including heart attack is extensive, derived from randomised controlled trials, high qualityobservational data, pharmacovigilance reports, clinical data and autopsy data. The evidence for common and serious adverse cardiac effects from these jabs is overwhelming and I have no doubt that a major contributor to the excess deaths we are seeing around the world including in Australia is because of the Covid mRNA vaccines.
There needs to be an immediate suspension of their use worldwide pending an investigation to stop further people being harmed and dying unnecessarily.
Cardiologist and President of the Australian Medical Professionals' Society, Dr. Christopher Neil says:
Having critically appraised the evidence, including adverse event data administered by our own Therapeutic Goods Administration (TGA), it is clear to me that the Covid vaccines can adversely affect the cardiovascular system in more ways than just myocarditis and pericarditis, as serious as they can be. Looking at the data, 20% of all notifications of heart attacks as suspected drug reactions ever reported to the TGA over 52 years have nominated a Covid vaccine as the suspected medicine. Most of these reports were made by doctors, so we know that many – including cardiologists – are concerned. Most were also mRNA vaccines, not AstraZeneca. Interestingly, the number of heart attacks reported in association with Covid vaccines in the past two years well exceeds the number for Vioxx, a drug previous removed internationally because of excess heart attack risk. These signals are a call for critical attention and we will be releasing a series of pharmacovigilance reports, starting with one on cardiovascular adverse events.
XYZ News compiled a list of Australian sportsmen who died from or had serious adverse reactions to Covid vaccines in 2022 alone, and these are just the ones we know about:
* Rod Marsh, 74, heart attack, died.
* Shane Warne, 52, heart attack, died.
* Matthew Lloyd, 44, Bell's Palsy, lived.
* Ryan Campbell, 50, heart attack, lived.
* Hayden Crozier, 28, myocarditis, lived.
* Ollie Wines, 27, Myocarditis, lived.
* Peter Matera, 53, heart attack, lived.
* Jason Januszke, 43, heart attack, died.
* Justin Crawford, 45, heart attack, died.
* Todd Woodbridge, 51, heart attack, lived.
* Ricky Ponting, 47, myocarditis, lived.
We have reported on excess deaths in Australia, disturbing effects on menstrual cycles and fertility, medical malpractice in hospitals, and state repression against doctors who call it out.
The Daily Sceptic is even more thorough, providing an extensive list of studies from around the world:
Evidence that Covid mRNA vaccines can have serious adverse effects on the heart has been mounting since the rollout began in late 2020. Research from Korea published earlier this month in the European Heart Journal found that eight out of 21 deaths in the study were proved by autopsy to be sudden cardiac death attributable to vaccine-related myocarditis. Twenty per cent of all incidents of vaccine-related myocarditis were deemed to be severe.
An Israeli study published last year in the Nature journal Scientific Reports found an increase of over 25% in the volume of cardiac arrest and acute coronary syndrome emergency calls in the 16-39 year-old population during the vaccine rollout. The increase was significantly associated with the rates of first and second vaccine doses administered to the age group in a given week. A significant correspondence between vaccination campaigns and myocarditis rates was also found in the United States, Israel, Germany and England by researchers at the Health Advisory and Recovery Team.
Top Edinburgh biologist Professor Richard Ennos analysed the U.K.'s 'Yellow Card' vaccine adverse event figures and found they indicate "unequivocal safety signals" for adverse reactions caused by the Pfizer and Moderna vaccines affecting the blood and heart. Studies of young people in Thailand, Switzerland and Taiwan each found evidence of heart injury (indicated by elevated troponin levels) following vaccination in around 3% of those vaccinated. Reviewing the published scientific literature, a report in March by an international group of leading medics and scientists found "solid" evidence that the COVID-19 genetic vaccines can trigger harmful autoimmune reactions in organs throughout the body, including the heart and circulatory system.
A notable increase in heart-related deaths above the historic average across the world since 2021 has been blamed by a growing number of doctors and scientists on the Covid vaccines. A recent research letter in the journal Medicine and Clinical Science concluded that "it should be investigated to what extent the about 5-10% highly significantly increased mortalities in Germany and Japan in 2021 and 2022 might be due to the pandemic countermeasures, including the vaccinations with their possibly underestimated immediate or protracted side-effects".
"It seems possible that a high vaccination rate has contributed to an increased all-cause mortality in some countries," the authors added.
The Lying Press and the Covid Tyrants they shill for cannot afford for this story to break out of their censorship cage, because it would expose the worldwide pattern of deaths following the Covid jabs which constitutes the greatest genocide of all time.
The death of Shane Warne is a national tragedy. The vaccine has robbed us of a national icon. In addition to being a brilliant cricketer he was a larger than life character who embodied the Anglo-Australian identity.
Finally, regarding Shane Warne the man, I cannot throw the first stone. His flaws fed the headlines of a greedy Lying Press, while our own are kept private and are a matter between us and God. Those of us left alive are blessed with time to repent.
This article was first published in XYZ